This blog by K. A. Last first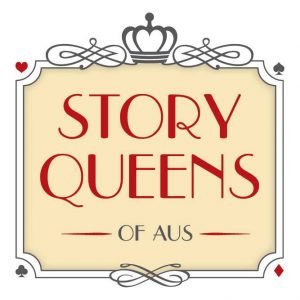 appeared on the Story Queens website…
The past few weeks have been very busy for us, and we agreed that maybe we should tell you all about what we've been doing.
Back on October 6, Heather had a little boy! Max Peter is all kinds of squishy cute. Lauren also had her baby on November 19, and guess what? She had a boy too, named Airlie. Congrats to both of our lovely mummy Queens.
On November 25, four of the Story Queens ventured out into the country side for some quiet time away to write. Our trip to the Hunter Valley had been in the makings for almost a year, so when the day finally arrived, Selina, Serene, Laura, and myself were all really excited! The house we stayed in was perfect for our needs, with a large dining table to spread our laptops and notebooks out on, a beautiful country setting, and no major distractions. We were quite happy that there was no phone service, and the wifi was pretty much non-existent. The worst distractions we had were the food, wine, tea, and the menagerie of animals in the paddocks. We were lucky enough to be able to spend our time with horses, alpacas, rabbits, chickens, and one very large rooster. He crowed a bit, but thankfully he wasn't sure what time it was and didn't wake us up too early.
Day one we arrived not long after check in time at 2pm. We unpacked, stocked the fridge, and had a look around. A couple of us were worried we would distract each other and not be able to get much done, but the dynamic around the table was wonderful. We got stuck into our first writing session, and I had my first 1000 words down before dinner. We ate outside while the sun sank below the horizon, sipping a Moet cocktail Selina whipped up. After another drink or two, it was back to writing, and by the time we decided to stop for the night I had another 2000+ words. We all agreed the first afternoon had been very productive, so we relaxed for another hour or so before heading to bed.
Day two and we were all up before 7.30am. Serene and I were the early risers, and we took a short walk out to say hi to the alpacas. After a relaxed breakfast we all got stuck into it again, and the day once again proved to be very productive. By the time my head hit the pillow at 11pm I'd managed 6000+ words for the day. Over the course of the day we stopped for lunch, snacks, and dinner, but not much else. We all agreed that since we had had an awesome day, we could relax a bit more after dinner, so we spent a few hours chatting about all things reading, writing, and books.
Day three was leaving day, but we'd managed to wrangle a late check out from the owner, so I still wrote around 2000 words before we packed up the car to leave. The weekend wasn't over yet though. We stopped in at the Veranda Restaurant at Calais Vineyard for a lovely tapas lunch before leaving the Hunter around 2.30pm. Lunch out was a wonderful way to finish off a perfect (and very productive) weekend.
Between the four of us we managed more than 35k words, and discussed lots of writing and book related stuff. Because we were so productive, we all agreed we would try and make it a yearly event, if not twice a year. I managed around 11000 words, and although I was completely exhausted by the time I got home, it was totally worth it.
The next exciting event we've had recently was Rebecca's launch party for Enchanting the Fey. On Tuesday November 29 we partied the day away, gave away some awesome prizes, and just had fun! If you missed the event and want to see what happened, you can go HERE. Congratulations to Rebecca on her debut novel. Just click to cover to grab your copy.
If one party wasn't enough, we decided to throw another one to celebrate Christmas. The Queens all got together on December 2 and gave our readers some awesome deals at the Story Queens Christmas Celebration Sale. There was lots of fun to be had with a major prize, giveaways, sales, and great discussions. If you didn't make the event you can check it out HERE. Some of the sales are still available if you'd like to make a purchase. Just comment to let us know and we'll be in touch.
And lastly, on Sunday four of the Queens spent the day at the Kariong Christmas Fair on the New South Wales Central Coast. Despite the heat, we had a great day chatting to readers and market goers.
---
Here's what the individual Story Queens members have been up to:
L. L. Hunter: I'm currently working on the final Aqua Saga book. I merged two books into one on the retreat and finished the first draft. Now I'm editing that draft. I also plotted out Wounded Heart, my next WIP. And I'm currently reading the Queen of the Tearling series.
Heather M. Bryant: I'm revising my Dark Fantasy WIP, A Life in Death. My MC, Corvette O'Connor, is a reluctant banshee on the hunt for whoever is killing off the fairies. With the help of her hot-as-hell mentor, Blaine, she discovers the bodies are only the start of a much darker plan to turn the world of Life into a world of Death. She disregards the warnings to back off until the murderer sends her a message she can't ignore; her best friend, Liz, and Blaine, are kidnapped. Corvette has to make the choice; save Blaine's life, or save Liz's soul. I just finished reading Heartless by Marissa Meyer and am hunting for my next read.
Selina Fenech: I'm working on Emotionally Unstable, the second book in the Empath Chronicles. I got 7500 words done at the Writer's Retreat and hope to work on it more once the Christmas sale season slows down for my website orders. I'm currently reading Rebecca Bosevski's Enchanting the Fey.
Serene Conneeley: I'm working on Into the Storm, my first Into the Mists Chronicle – it's set a bit before Carlie arrives in Summer Hill, and tells Rhiannon's story, as well as some of Beth, Rose and Violet's lives… I was sooo behind on NaNoWriMo this month – I ended up having to do 25,000 words in about five days! But I did it – around 13,000 at our writing retreat, then 8000 words on my final day. Not sure I want to ever have to do that again – but it's amazing what you can achieve when you set your mind to it! I was *not* going to fail on my 50,000 word count 🙂 I just read Shattered Glass by Maria V Snyder, a novella set between Night Study and her upcoming Dawn Study (cos NaNoWriMo – reading is banned!). And now I can finally start reading K. A. Last's Die For Me. Hooray! xx
K. A. Last: I participated in NanoWriMo this year after a year off, and I'm so glad I did. I now have 50k of a new book down with about 25k to go. I had originally planned to work on my Gamer series, but I have a few issues to work out with that story, so I started another book called The Lovely Dark. Harvey Anderson is a quiet kid who tries to keep out of trouble, but trouble has a way of finding him. When he falls into an underground cavern trying to save his best friend Toni, and another girl called Lian, they accidentally awaken a 1000 year old witch. The witch wants to become corporeal again, and in order to do so she starts taking souls, one for each of the twelve witches who bound her. On top of the writing and gallivanting around the place to events, I managed to finish reading The Death Cure by James Dashner. I also read The Tales of Beadle the Bard by J. K. Rowling, and First Glance by L. L. Hunter. This week I started reading Into the Mists by Serene Conneeley, and I plan to also read The Kill Order by James Dashner, and Enchanting the Fey by Rebecca Bosevski.
---
Coming into the Christmas break the SQ Court will probably be a little quiet with our members spending time with their families and friends. But we have some big things planned for you in 2017, so watch this space.
Until next year, have a very Merry Christmas, a safe and Happy New Year, and we'll see you in 2017.
K. A. xxx
About the Author: K. A. Last is the author of the Tate Chronicles, Immagica, and A Novel Idea! She drinks lots of tea, is obsessed with Buffy, and loves all things purple (it used to be pink). K. A. Last is currently studying her Bachelor of Arts at Charles Sturt University, with a major in English, and minors in Children's Literature, Art History, and Visual Culture. She resides in a peaceful, leafy suburb north of Sydney with her husband, their two children, a rabbit named Twitch, and a guinea pig called Squeak. Website Facebook Twitter