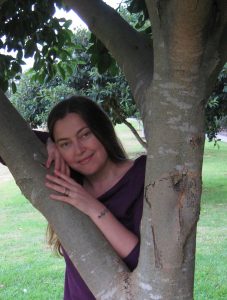 Story Queen Serene Conneeley is a Sydney writer who melds myth and magic with the real world, and finds enchantment in the everyday…
When did you start writing?
I'm shy, so I've always been a writer, it's how I express myself and make sense of what I feel. I wrote for a national surfing mag in high school, did politics and journalism at uni, and became the first student editor of the uni paper. I've been writing and editing mags ever since, which evolved into books.
What draws you to the genre you write?
It's a cross between the books I love reading and the experiences I've had – the good, the bad, the harrowing and the magical…
How do you describe your books:
Magical realism, set in the real world but with some magic woven into it, and some… beings… who may or may not be real. The Into the Mists Trilogy is loosely YA, as the main character is seventeen, although the most-loved character seems to be her priestess grandmother… Or perhaps her adorable black cat… Or maybe the mysterious dark-haired druid…
List your books: The Into the Mists Trilogy – Into the Mists, Into the Dark and Into the Light. The non-fiction Magic Series – Faery Magic, Mermaid Magic and Witchy Magic. The Sacred Series – Seven Sacred Sites: Magical Journeys That Will Change Your Life and A Magical Journey: Your Diary of Inspiration, Adventure and Transformation, and the meditation CD Sacred Journey.
Which one would you most like to see made into a movie: It would be awesome to see Into the Mists on the big screen, although some people think Seven Sacred Sites would make a great movie.
Who do you like to read? Do you feel they influence you?
I love Sarah Addison Allen, Juliet Marillier, JK Rowling, Philip Pullman, Richard Dawkins, Nicholas Sparks, Paulo Coelho and many more… I think they all inspire me in different ways…
How do you continue to learn and develop your creative skills?
Writing, reading, writing, writing… Practise makes perfect, so they say. And working as an editor certainly helps too…
How attached do you get to your characters?
Very 🙂 Into the Mists was supposed to just be a short, stand-alone novel, to see if I could write fiction, but it quickly turned into a trilogy. Now, loath to leave the world I'd created, and thanks to some reader requests, some of the other characters are getting their own books too – I've almost finished the first Into the Mists Chronicle, and am halfway through two more, and there's also a Mists journal, and a half-written non-fiction book too. But I'm also eager to start a new series…
Who do you consider your biggest supporter?
My sweet hubby, who is the first to read all of my books, and never complains when I lock myself in my little purple office for days at a time – he just makes me endless cups of tea 🙂 He helps me at events, and he's amazing at talking me down from my regular bouts of self-doubt… And it's always fun to hang out with my fellow Story Queens, sharing experiences, encouraging each other, doing events together…

What is your biggest fear as a writer?
Having to speak. I finally screwed up my courage to be on an author panel at Book Expo though (supported by my fellow Story Queens), so I'm working to overcome it.

Your most exciting moment as a writer?
Signing a contract for my first book. Holding the first copy of my first book in my hands, which was pretty surreal, and totally awesome. Receiving the proof copy of the hardcover omnibus edition of the Into the Mists Trilogy earlier this year was very special too, and I've been really touched by amazing reviews and reader feedback.
What do you love about self-publishing?
The control (I've learned that I'm a bit of a control freak), the not having to wait, the not being reliant on someone else to do their part, and the owning of my books and the ability to do with it what I will – like split Seven Sacred Sites into seven mini ebooks, which has done really well.
Why did you choose to self-pub rather than chasing the trad-pub route?
I didn't – I signed a contract for my first book, but halfway through the (lengthy) process I cancelled the contract, paid back my advance and started my own publishing company. It was a tough decision, but one of the best I've ever made. And last year at Book Expo the publisher looked at all my books and told me I'd definitely made the right decision, which was nice confirmation.
What are you writing now?
I've almost finished the first Into the Mists Chronicle, Into the Storm, and after a tricky beginning, it's all weaving together magically. I'm halfway through another two as well – and by NaNoWriMo 2017 I should be able to finally say farewell to this world, and start the new project I've been dreaming about…

Which of your published stories will always hold a place in your heart?
My first book Seven Sacred Sites will always hold a special place in my heart. Into the Mists will too, since it was my first novel, and let me know I could write fiction. But they're all special to me in different ways…
"Cannot put Into the Mists down… It's so compelling and beautifully realised – so much magic. Absolutely recommended!"
Lucy Cavendish, author of White Magic
"Into the Dark is a compelling novel that haunted my dreams while I was reading it, and lingered in my mind long after I finished it."
Felicity Pulman, author of I, Morgana