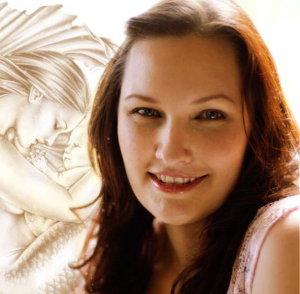 Story Queen Selina Fenech is an amazing artist, and also an incredible writer – she's the author of the beautiful fantasy series Memory's Wake, and the intriguing Empath Chronicles.
When did you start writing?
I did a lot of creative writing in school, and started my first (unfinished) novel when I was 15. I'm happy to say I'm a much better writer now and actually finish what I start. Mostly.
What draws you to the genre you write?
I've always loved fantasy and how it brings out the feeling of childlike awe of magic and the world.
How do you describe your books: YA Fantasy with lots of action and twists.
List your books: The Memory's Wake Trilogy – Memory's Wake, Hope Reigns and Providence Unveiled – The Memory's Wake Companion Guide and the Empath Chronicles.
Which one would you most like to see made into a movie: Memory's Wake would be very cinematic and fun, with magic, fairies, and pretty frocks.
Who do you like to read? Do you feel they influence you?
I read very broadly and don't tend to pick favourites and stick to them. One day I could be reading YA paranormal romance, the next a thesis about the relationship between the written word and the rise of the patriarchy. I like to think that my eclectic tastes are the greater influence to my written work than who I read.
How do you continue to learn and develop your creative skills?
I'm always studying new techniques and philosophies about the craft of writing. There are so many conflicting ideas about the "best" ways to write, and I like to explore different ideas.
How attached do you get to your characters?
Initially I am very attached, but by the end of a series I'm often ready to say goodbye. Okay, okay. It's still a teary goodbye.
Who do you consider your biggest supporter?
That's an easy one – my fellow Story Queens! Wait… Maybe I should have said my husband. No, it's okay, he probably won't read this.

What is your biggest fear as a writer?
I fear running out of ideas.
Your most exciting moment as a writer?
Releasing my first novel and holding it in my hands as a paperback for the first time. I've had many achievements since then, but nothing tops that excitement.

What do you love about self publishing?
The immediacy of the processes and the level of control over my work.
Why did you choose to self pub rather than chasing the trad pub route?
I'm impatient and a control freak.
How could a fan become a beta reader for you?
Dance three times widdershins under a waning blue moon. Or email me at selina@selinafenech.com. Whichever is easiest.
What are you writing now?
I'm jumping between development of a few fiction projects while I'm focusing more on publishing colouring books. In 2017 I will be focusing on fiction again.

Which of your published stories will always hold a place in your heart?
Memory's Wake is my first true fiction love. But there are still some unrequited loves which may take over in the future.
"With likeable characters, an intriguing plot and a captivating world, it's hard not to fall in love with Memory's Wake."
YA Book Haven
"Loved it! Magic, mayhem, lost friends, found friends, lost and found family. Good guys, bad guys, wizards and dragons, oh my! I so want to read the rest of this series."
Loves2Read

Find out more at www.SelinaFenech.com.