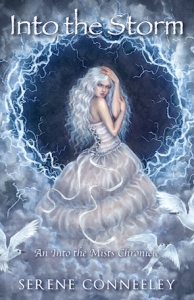 Into the Storm: An Into the Mists Chronicle

A spell to weave. A life to save.
A heart to break. A storm to brave.
When Rhiannon's mother dies, her whole world falls apart, and she withdraws from her family, her friends and her life. As grief and anger rage within her, she connects with the wildness of the winter storms – until she's consumed by the powers they unleash. A priestess tries to help her, a woman from the mists seeks to comfort her and her little brother attempts to reach her, but she doesn't know how to find her way back.
Entwined throughout is the story of her mother, which reveals a haunting mystery. Why did her parents keep such a dark secret? How will a spell she casts in the woods one full moon night unravel her? Who is the woman in red she encounters atop the sacred hill? And what chaos will be wrought by a girl from the other side of the world with a strange link to her father?
As the darkness of her shadow self is revealed, Rhiannon must find the courage to go into the storm and face her greatest fears. But if she does, will she be transformed by its terrible power, or broken and lost in the wreckage?
"This book takes you on such an emotional journey, and makes you believe in real magic. I loved it."
Selina Fenech, author of Memory's Wake

Into the Storm is available from the Blessed Bee Books etsy store now…
The ebook is available from Amazon, and is free through Kindle Unlimited until October 30, when it will become available through iBooks and Kobo too.
The international paperback will be available soon – in the meantime, I've kept the launch special price up in the Blessed Bee etsy store.

Into the Storm will be $20 throughout launch week, and there will  be a free gift with every purchase – you can check some of them out here – plus some cool prizes on launch night. There are also book bundle specials for the Into the Mists Trilogy and the Magic Series*, and if you buy Seven Sacred Sites you'll receive a free copy of A Magical Journey… From July 31, Into the Storm will be $25, as it's more than twice as long as Into the Mists, so it cost twice as much to print…
The new book launches on July 21, with an online party with the Story Queens. Kicking off at 10am Sydney time, it will go for more than 12 hours, with three book launches – mine, L. L. Hunter's Illuminate and Rebecca Bosevski's Alpha 9 – lots of prize packs and book specials, and loads of fun as each of the Story Queens chat live with people from around the world. I'll be on from 6-7pm, then 8.30-10pm… You can check out the full schedule here, and we'll all be popping in over the weekend too…
* Book bundle specials are within Australia only, because of crazy postage costs 🙁