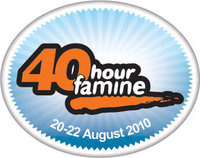 With thanks… August 2014
I am grateful for a weekend with a dear friend, for Pauline Nordin, for all those who sponsored us in the 40 Hour Famine, for fun times at the Festival of Dreams, for book sales at Book Expo, and to my sweet husbee for all his amazing help…
With thanks… Friday August 1… BW day 41…
Today I'm grateful for the start of a mini adventure to spend the weekend with a friend I haven't seen in far too long…
I'm grateful that I got up super early so I could spend a bit of time with Juz before he left for work, then did the last workout of Jillian's Biggest Winner program, which has been awesome fun, and which I will miss very much – it's been challenging but effective, and this morning I pushed myself extra hard, upping the weights a bit for some moves, powering through some extra rows while she cooled down, then following with Jillian's Killer Abs workout as an extra bonus add on 🙂
I'm happy (and sad) that I finished reading The Fault In Our Stars, which is beautiful and heartbreaking and inspiring and wonderful…
I'm glad I got packed and got to the airport with time to spare – and glad I had some work to do since the flight was delayed because of super strong winds (it was still all warm and sunshiney though). And I felt a bit like Augustus Waters when the plane finally took off, freaking out at the excessive shaking of the small metal bird and the strange sensation of lift off. But it smoothed out eventually, and I got some more work done, and then as soon as I'd managed to drink a cup of tea we were landing, and I found a shuttle bus that took me to my cute little room, to wait for my friend to finish work…
And I'm grateful for an awesome night, having yummy salad in a cute café as we caught up on life, then wandering down to the beach with an icecream and sitting there gazing out to sea, talking a mile a minute, watching the beam from the lighthouse illuminating the darkness, and the people dancing on the grass to music we couldn't hear…
With thanks… Friday August 15… BB day 12… 40 Hour Famine begins…
Tonight I am so grateful to Juz for doing the 40 Hour Famine with me – it makes it so much easier when we do it together, and it's more fun too 🙂
And I'm so grateful to everyone who sponsored me – it sure makes it easier to do it knowing that we're raising lots of money to help those who really need it…
I'm grateful that I got up super early and did a hardcore lower body workout followed by a yoga session that also hammered the glutes, quads and hammies – and still made it to work early.
Was hoping to be able to leave on time as a result, but alas… But I made it home by quarter past seven, which gave us forty-five minutes to eat dinner (and have tea and bikkies for treat night) before the famine began… Wish me luck!
With thanks… Saturday August 16… 40 Hour Famine…
Today I am so grateful to Juz for sharing the hunger pains with me, and sooo grateful to all the people sponsoring us.
I'm happy that I went to the gym for a morning Body Combat class – I figured I'd only get hungrier as the day progressed, so this was the best time to go. And it was awesome – tough but fun, and I love the instructor, she's so inspiring and so fierce 🙂
We had a good day – watched The Amazing Spider-Man 1 and 2, and all the features on the new one, so it was about eight hours of Spidey fun, interspersed with many cups of tea, glasses of water, and a fresh vegie juice for lunch and dinner. We did start feeling hungry in the late afternoon, but it came and went. And I added lots of spices to a pot of chai tea I brewed up (from cinnamon and fresh ginger to cardamom and turmeric), to make it more interesting 🙂
With thanks… Saturday August 30… BB day 27… Book Expo day 1…
Today I am grateful for an awesome day at Book Expo – it was so much fun to catch up with lots of friends, and meet a few new ones, and although I didn't get to attend any workshops or panels, there were so many good ones I would have loved to be at, and everyone there had such a great time.
I'm so grateful to Juz, as always, for spending the whole day with me and helping me so much, in so many ways.
I'm so grateful to all the people who bought my books, especially all the ones who took a chance and grabbed Into the Mists and Into the Dark, it was so cool to see them all going home to new readers who love books so much!
I'm grateful my PayPal Here account was activated (at the eleventh hour, Friday night, of course) and I could use my credit card reader – I got a few sales that I would have missed out on if I didn't have it.
I'm happy that I got up early and still got my workout done before leaving for the expo in the morning…
And I'm grateful that we got home in plenty of time to chill out and curl up on the couch and recover a little – so we can do it all again tomorrow!