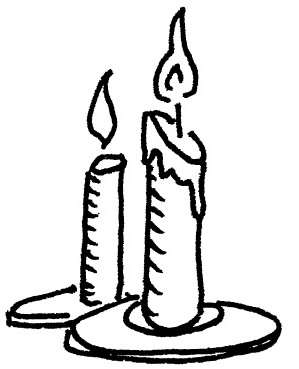 Seasonal foods and herbs play a large part in witchy celebrations, so below are a few of the Imbolc recipes I experimented with for Witchy Magic.
~ ~ ~ ~ ~ ~ ~ ~ ~ ~ ~ ~
Lemon Balm Bread
Ingredients:
✩ ¾ cup milk
✩ 1 cup fresh lemon balm, plus 2 tblsps
✩ 1 tblsp fresh lemon thyme
✩ ½ cup butter, softened
✩ 1 cup sugar
✩ 2 eggs
✩ 2 cups plain flour
✩ 1½ tsps baking powder
✩ Pinch of salt
✩ Zest of one lemon
✩ ¼ cup icing sugar
✩ 2 tblsps lemon juice
What to do:
★ Combine milk, one cup of lemon balm and the thyme in a saucepan. Gently bruise herbs to release the oils. Bring to the boil then remove from heat; cover and allow to cool. Strain and reserve the liquid, then discard the herbs (strew them on your garden).
★ Cream the butter and sugar, then beat in the eggs one at a time.
★ In a large bowl, combine the flour, baking powder and salt. Add the flour mixture to the butter mixture, a small amount at a time, alternating with the reserved milk. Chop remaining 2 tablespoons of lemon balm and add to the batter, then stir in the lemon zest.
★ Pour batter into a greased and floured loaf pan. Bake at 165C for 45 minutes, or until wooden toothpick inserted in the middle comes out clean. Cool in the pan for 10 minutes, then cool on a wire rack.
★ Combine the icing sugar and lemon juice, mix until smooth, then pour over the cooled bread if desired.
~ ~ ~ ~ ~ ~ ~ ~ ~ ~ ~ ~
Bride's Bread
Soda bread is made from buttermilk, flour and salt, with baking soda (sodium bicarbonate) instead of yeast – the buttermilk acidifies the baking soda and helps the bread rise a little, although it's still much flatter than a normal loaf. Soda breads include Australian dampers, Scottish bannocks, Irish soda breads and other similar loaves, and are quick to make, requiring very little mixing or kneading.
Imbolc is dedicated to Bride, the Maiden Goddess, and you can dedicate your loaf to her by adding any seeds you like – sunflower, pumpkin, sesame, poppy, linseeds, caraway – or make it a sweeter loaf by adding raisins and a spoon or two of honey.
Ingredients:
✩ 1 cup plain wholemeal flour
✩ 1/3 tsp baking soda
✩ 1/3 tsp salt
✩ Handful of seeds
✩ ½ cup buttermilk
What to do:
★ Combine the dry ingredients, then stir in the buttermilk. Mix until well combined, shape into a rounded loaf and place on a greased baking tray. Cut a deep cross in the top of the loaf, which helps it cook through. Bake in a preheated 200C oven for around 30 minutes. Tap the bottom of the loaf to test it – if it sounds hollow it's ready to eat! Butter with your fresh butter and eat warm!
✩ You can also make buttermilk by adding a teaspoon of lemon juice to 1 cup of milk and letting it stand for five minutes, or buy it at the supermarket, although this obviously has more additives.
~ ~ ~ ~ ~ ~ ~ ~ ~ ~ ~ ~
Bride's Scones
Ingredients:
✩ 50g butter
✩ 2 cups self-raising flour
✩ 1 cup buttermilk
✩ 1 tblsp honey (or more to taste)
✩ 1 tsp pure vanilla essence
What to do:
★ Rub the butter through the flour, then add the other ingredients and mix well. The mixture should be quite wet.
★ Knead lightly, then shape into balls and flatten a little. Place on a greased baking tray and glaze the top of each scone with milk.
★ Bake them in a preheated 220C oven for around 15 minutes, or until golden brown and firm, and cooked right through. (The size of each scone will influence the cooking time.)
★ Serve the scones warm from the oven with fresh butter.
~ ~ ~ ~ ~ ~ ~ ~ ~ ~ ~ ~
Imbolc Tea
✩ 1 tsp chamomile flowers per person
✩ 1 tsp finely sliced fresh ginger per person
✩ 1 tsp honey per person, to taste
✩ 1 cup boiling water per person
Pour water over the chamomile and ginger, steep for five minutes then serve hot with honey, or allow to cool and serve over ice. Red clover, dandelion and nettle teas are also good choices at this time of year. Red clover is a blood purifier that has traditionally been used as a cough remedy and to ease respiratory problems and skin inflammation. Dandelion is a great detoxifier, playing an important role in liver cleansing programs, and eases digestive disorders and reduces inflammation. And nettle has anti-inflammatory properties, boosts immunity and helps ease the physical effects of stress.
~ ~ ~ ~ ~ ~ ~ ~ ~ ~ ~ ~
Make Your Own Butter
You may have accidentally discovered how to do this while whipping cream for desserts. All you need is some heavy whipping cream and a glass jar with a lid that seals tightly. (Or you can use hand-held beaters or a blender, but the jar option is more fun!)
✩ Pour the cream into the jar, no more than half full, and start shaking vigorously. Depending on how much cream you used, it can take from 10 minutes to half an hour, but it's good for the arm muscles! It will start to form into yellow clumps – this is the butter. The liquid is buttermilk, so drain it off and use it in cooking (it's yummy in pancakes, and can also be used to make soda bread).
✩ If you want it to keep for some time, place the butter in a strainer and rinse it with water, kneading any extra buttermilk out. Add a touch of salt if you want to (it will preserve it for longer), or add some honey if you'll be using it for sweet treats, some herbs for savoury toast, or garlic if you want to make garlic bread.